Posts feature partner companies & may be sponsored. Post contains affiliate links & I will be compensated if you make a purchase after clicking on links. As an Amazon Associate I earn from qualifying purchases.
This post about the benefits of a raw diet for dogs has been sponsored by TruDog. All opinions are my own.
Feeding a raw diet to your dog is good for their health, but it's also time-consuming and expensive. A raw pet food delivery service can help.
There are several benefits of feeding dogs a raw diet, including increased energy levels, better skin, and coat quality, healthier teeth and gums, and reduced allergies, or sensitivities to food ingredients (like grains). The list goes on! But if you're not sure how to start feeding your dog this way or don't have the time to do all the research yourself then ordering raw dog food online may be the solution you've been looking for.
Raw dog food delivery makes feeding a raw diet easy. The company delivers your healthy dog food straight to your door, so you don't have to worry about sourcing the perfect meats or making sure they're prepared properly. This type of program will save you time, money, and energy while helping your pup live a long healthy life.
What is a raw dog food diet?
First, the basics. What is a raw diet? A raw diet is exactly what it sounds like - feeding your pup completely raw ingredients. This means no processed food of any kind. Those raw ingredients can be fresh, frozen, freeze-dried, or dehydrated, depending on the type you choose.
There are several reasons that this diet is better compared to feeding your dog regular baked kibble. The most important of all the benefits of raw dog food is its nutritional value. Many dog food kibbles have a lot of fillers in them - meaning some of them don't contain as many nutrients as they should.
Raw diets by their very nature are fairly unprocessed and made from simple, whole-food ingredients.
Raw Diet Ingredients
What foods should make up a raw food diet? Here are a few ingredients to feed your dog:
Muscle Meat
The type of meat you choose to feed your dog depends on many factors. Wild game, chicken, turkey, beef, lamb, and many others are available. Ask your vet which one they recommend if you are unsure.
You can also vary the meats you use, as long as you switch their meal plans slowly.
Organ Meats
Organ meats like liver should be fed sparingly due to their high vitamin A content. Feeding organ meats once per week is usually fine but feeding more than that can cause toxicity especially in growing puppies whose systems are less mature.
You shouldn't just feed raw meats though. Feed a wide variety of foods but make sure you understand the proper rations they should be fed in for maximum health.
Feeding Eggs to Dogs
Protein is important for dogs and eggs are an excellent source of protein that have the added benefit of being easy to feed. They're high in protein, vitamin A, B5, B12, calcium, and more.
What About Fruits and Vegetables
You can feed your dog most fruits and vegetables. Dogs are able to digest them fairly well in moderation, just make sure you keep an eye on the number of veggies vs. meat in their diet.
Fruits and veggies make a great addition to any raw diet because they provide antioxidants, fiber (for bowel regularity), trace minerals such as magnesium, calcium, potassium.
Offal Such as Heart or Gizzards
Meat, with the exception of organ meats, should be the main ingredient in your dog's diet. But adding some offal can be a great way to get additional nutrition in their bowl. Feeding your pup organ meat once per week is good for them, but you can feed heart or gizzards more frequently since they're lower in vitamin A.
Raw Meaty Bones
Dogs are designed to eat bones, and they provide great nutritional benefits. Raw meaty bones are usually frozen before they're delivered so your dog can benefit from the nutrients in them while also chewing on a natural bone that will help keep their teeth clean. They are excellent for their dental health and help keep tartar to a minimum.
Should dogs eat dairy?
Dogs are able to digest dairy, but it can be difficult for some dogs. If your pup is having these issues, then you may want to feed only small amounts of plain yogurt or cottage cheese.
Raw Dog Food Benefits
There are many benefits of feeding your dog a raw diet, but the most important ones include:
Reduced pet allergies or sensitivities to commercial food ingredients
Better breath, shinier coat, and healthier skin
Reduced tartar and improved dental health
Inappropriate or destructive chewing may be reduced as well as anxiety from separation
Better weight control
Improved digestion
Healthier, happier pet overall!
If you're interested in feeding your pup a raw diet but are overwhelmed by the amount of work, then consider using a raw dog food delivery service. These services save time, money, and energy while allowing you to feed them a wholesome diet.
Buying Raw Dog Food Online
There are many types of raw dog foods available. Do your research and decide which one works for your family. If you're ready to start your pup on a raw diet, then consider buying raw dog food online. This is an easier way to get the right balance of meats and veggies for your dog's unique needs.
Premade raw dog food makes feeding a raw diet easy with high-quality ingredients delivered right to your door. Some companies deliver fresh or frozen raw dog food; others offer freeze-dried or dehydrated dog foods.
Fresh and Frozen Raw Dog Food
Some dog food delivery services specialize in fresh or frozen raw foods. Once you place your order, they will ship out a box of ingredients that require no further preparation (except thawing) before you feed it to your pup.
These services offer the convenience of not having to go to the store and buy everything yourself. In addition, you can also choose the specific meats, veggies, and supplements you want for your dog.
One of the drawbacks to feeding fresh and frozen raw dog foods is that it doesn't stay good long and requires a lot of storage space in your fridge and freezer.
Dehydrated Raw Food for Dogs
In addition to offering fresh and frozen raw diets, many of these services also offer dehydrated raw food. This is a very convenient option if you have limited storage space for cold foods.
Dehydrated raw is made of meat and vegetables, just like the fresh raw food, but it has been dehydrated. Either add water to reconstitute it or use it as is on top of your dog's regular kibble as a meal topper.
They are great for traveling since they don't need refrigeration and have a long shelf life. They can also be easily packed for camping trips, road trips, hikes, etc.
Dehydrated raw foods are a great way to feed your dog a natural diet while also providing yourself with some convenience.
If you're interested in making the switch from kibble to raw but aren't quite ready for frozen or fresh food, then dehydrated raw food is a great place to start.
Freeze-Dried Raw Dog Food
Freeze-dried raw dog food is made of fresh meats, vegetables, and supplements. The food has been freeze-dried so all of the moisture is removed which helps preserve vitamins and minerals.
What are the benefits of a raw diet for dogs?
Like dehydrated dog food, freeze-dried foods help preserve the nutrients that would normally be lost through cooking.
Freeze-dried foods are also very easy to use as a treat or supplement to your pup's diet so they're great for training purposes and travel.
Freeze-dried dog foods are also easy to store and have a long shelf life so they're perfect for campers or pet parents that spend a lot of time on the road.
Raw Treats and Supplements for Dogs
A raw diet for dogs doesn't stop at what goes in their food bowl. Raw treats and supplements also play a big part in your dog's diet.
Many raw dog food delivery services offer their own line of ready-to-feed raw supplements and treats.
These make a great addition to a top-quality raw diet since they can help round out your pup's nutrition plan and provide some extra goodies that they love.
Save Time and Money with a Premade Raw Dog Food
For many people, the prospect of preparing raw dog food is daunting. Raw dog food delivery take care of this for you so that your pup can live a long healthy life while also saving you time, money, and energy!

TruDog Raw Dog Food
You can buy freeze-dried and dehydrated dog food online from TruDog. In addition to raw freeze-dried and dehydrated dog foods, they also offer raw freeze-dried dog food toppers, limited ingredient—often only one ingredient—treats and chews, and supplements. (Head over to TruDog and Save 20% on Chew Me Venison Jerky. No code needed.)
Their raw dog foods have a wide variety of meats, vegetables, fruits, supplements, and proteins so you'll be able to find the right balance for your pup's needs.
In addition to variety, their ingredients are of the highest quality, and they deliver them directly to your door, so you don't have to worry about going to the store.
Their raw dog food also has no additives, fillers, or grains so that means more nutrients are available for your pup.
Here are a few of the healthy dog foods they have available for your dog: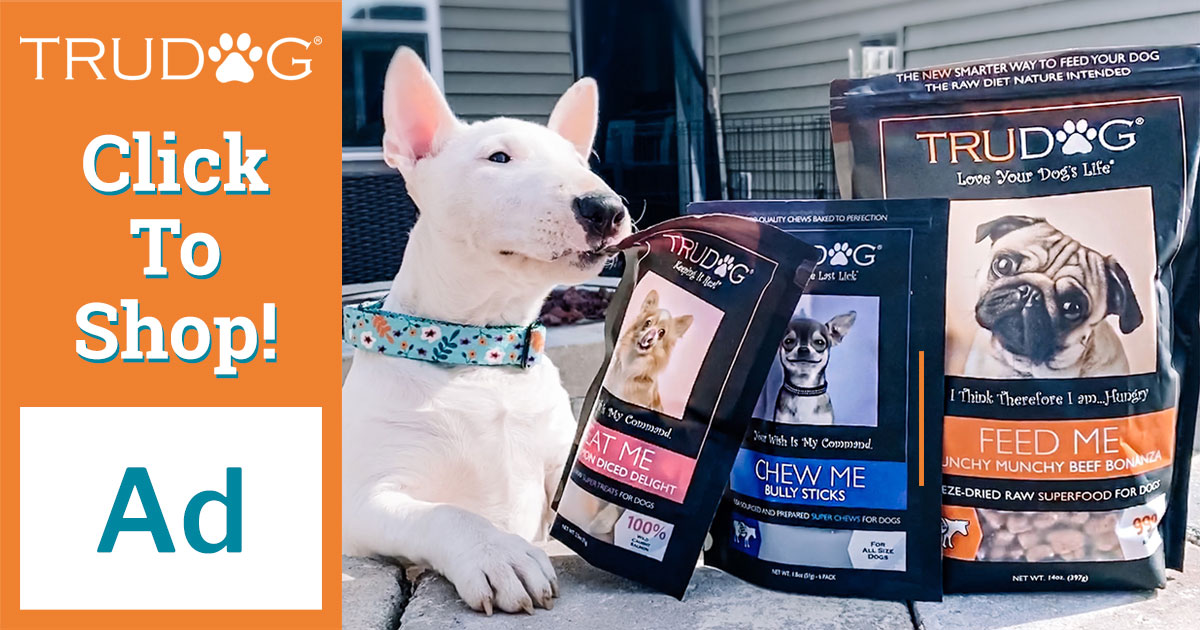 More Healthy Dog Articles to Read
Diane is a professional blogger and nationally certified pharmacy technician at Good Pill Pharmacy.  She has two college aged kids, one husband and more pets than she will admit to. She earned her BS in Microbiology at the University of New Hampshire  but left her career in science to become a stay at home mom. Years of playing with LEGO and coloring with crayons had her craving a more grown up purpose to her life and she began blogging and freelance writing full time.  You can learn more about her HERE.