Posts feature partner companies & may be sponsored. Post contains affiliate links & I will be compensated if you make a purchase after clicking on links. As an Amazon Associate I earn from qualifying purchases.
Last Updated on December 18, 2020 by
This pasta recipe was made possible by a product that I received at no charge for review.  All opinions expressed here are my own.
On busy weeknights I do not have a lot of time for rice to steam or potatoes to bake.  I want things done quickly and that usually means I head right to the pasta in my pantry.  I always make sure to keep a variety on hand so I can choose just the right one for whatever pasta recipe I decide to come up with.  Usually I just wing it and create some pasta recipe on the fly...adding things willy nilly as I go.  Since macaroni and cheese is always a big hit I decided to create a variation on my kids' favorite pasta recipe and throw in some ham and veggies.  Please note that this recipe was originally going to contain broccoli, however the broccoli was looking a little suspicious so it became carrots at the last minute!  I do so love a pasta recipe that is flexible!
Our all time favorite cheese has got to be Cabot Cheese.  Seeing as it has it's roots in Vermont and that is where my family is from I guess I just feel a little bit attached to the brand.  I am a bit of a snob about my cheddar cheese but the three new varieties I was sent to try out were absolutely delicious.  These are sharp, bold cheeses but still have a nice creamy texture to them.  Their Farmhouse Reserve, White Oak, and Alpine Blend are all relatively new but I recommend you check them out if you love a good cheddar cheese.
The secret to making this recipe quickly is to add the pasta, meat and veggies to the same pot.  Just make sure you are cooking everything for the proper amount of time.  Get the water boiling and throw in pasta....carrots need about 5 minutes to cook and the ham only needs a minute to warm up.  Strain the whole thing and add the cheese sauce and you are DONE in 15 minutes.  If you are looking for more 15 minute recipes just scroll to the bottom of the post for the rest of the #15MinuteSuppers blog recipes!

Ham and Cheese Pasta Recipe with Vegetables
#15MinuteSuppers



Yield: 6 to 8
Ham and Cheese Pasta Recipe with Vegetables #15MinuteSuppers
Deliciously simple pasta recipe that takes only 15 minutes to make

Prep Time 5 minutes

Cook Time 10 minutes

Total Time 15 minutes
Ingredients
1 pound penne pasta
2 cups carrots, peeled and sliced
2 cups chopped, fully cooked ham
4 cloves garlic, minced
6 TBSP butter
1 ½ cups milk
¼ cup flour
one 8 ounce block of Cabot cheddar, cut into cubes
1 tsp black pepper
½ tsp garlic salt
1 tsp thyme
fresh parsley for garnish.
Instructions
Bring a large pot of water to a boil over high heat.
Add in the pasta and stir occasionally
While pasta is cooking, make the cheese sauce.
Melt the butter over medium heat in a medium sauce pan.
When the butter is melted, add the garlic and cook 2 to 3 minutes
Add the flour and whisk until smooth. Increase heat to medium high
Add the milk and stir until thickened.
Add the cheese, salt, pepper, and thyme. Stir until melted and smooth.
While you are working on the cheese sauce throw the carrots into the pasta water to cook for for last 5 minutes of cooking time.
Just before you remove the pasta from the heat, add in the ham. Let cook one minute.
Drain pasta, carrot, ham mixture and place back in pot
Add cheese sauce and mix thoroughly.
sprinkle with parsley if desired.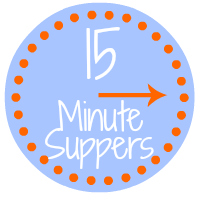 It's Friday, so it's time for another 15 Minute Supper. I love sharing these easy and delicious meals with you and helping you get a meal on your table in less time than you could get take out or order a pizza.
Follow 15 Minute Suppers on Facebook | Twitter | Instagram | Pinterest
and look for the #15MinuteSuppers hashtag too
You have to check out these delicious 15 Minute Suppers:
Chicken & Waffle Sandwiches from Around My Family Table
Easy Skillet Lasagna from How To This And That
Sun Dried Tomato & Chicken Alfredo from Lizzie Jane Baby
Best-ever Baked Chicken Nuggets from Better in Bulk
Paleo Coconut Fish Soup Recipe from Confessions of an Overworked Mom
15 Minute Chicken Fajita Recipe from Sunshine and Sippy Cups
Ham and Cheese Pasta with Vegetables from Suburbia Unwrapped
BLT Tortellini Salad from Just 2 Sisters
If you are a blogger and you'd like more info, please check out the 15 Minute Suppers website or ask to join the Facebook group to participate on Fridays…we'd love to have you join us.
Disclaimer:  In accordance with the Federal Trade Commission's 16 CFR, Part 255: "Guides Concerning the Use of Endorsements and Testimonials.": I received product samples  in exchange for my honest review. I received no monetary compensation. All opinions expressed here are mine and mine alone. Some of the links in this post may be "affiliate links." This means if you click on the link and purchase the item, I will receive an affiliate commission. Regardless, I only recommend products or services I use personally and believe will add value to my readers.
Diane is a professional blogger and nationally certified pharmacy technician at Good Pill Pharmacy.  She has two college aged kids, one husband and more pets than she will admit to. She earned her BS in Microbiology at the University of New Hampshire  but left her career in science to become a stay at home mom. Years of playing with LEGO and coloring with crayons had her craving a more grown up purpose to her life and she began blogging and freelance writing full time.  You can learn more about her HERE.