Posts feature partner companies & may be sponsored. Post contains affiliate links & I will be compensated if you make a purchase after clicking on links. As an Amazon Associate I earn from qualifying purchases.
Last Updated on December 18, 2020 by
There are some foods that I eat quite a bit of, whether I should or not. I love cheese and could eat my weight in fresh berries. Since going gluten free recently I have had to cut out bread which has always been a huge weakness for me. Bacon and Brussels sprouts have never been high on my list of things to eat a lot of. While I love bacon, I know it isn't really good for me and no one in my house likes Brussels sprouts except me. However, when I saw a recipe being put together on The Chew for Angel Hair with Bacon, Brussels Sprouts, and Mushrooms I decided I could work with that and see what the family thought. It had the added bonus of being amazingly fast to make which is a huge perk when feeding a busy family. In fact, if you are pressed for time and trying to cook REAL food in a hurry, I really recommend you check out their website or watch the show. You really can eat healthy in a hurry without resorting to a box of hamburger helper, I promise! I made a few changes to the recipe based on our own tastes. Sorry, Michael Symon, I detest mushrooms and since momma is the one cooking, momma isn't eating them! So, here is a slightly modified version of the recipe over at The Chew which you can easily make in under 15 minutes. In an effort to stay with the whole gluten free eating, I chose a gluten free pasta which I was amazed to see was actually pretty tasty. I was also impressed that 2 out of 3 Brussels sprouts haters actually liked this dish! Score one for mom! Now, if I could just do something about my weird kid who doesn't like bacon....
Pasta with Bacon and Brussels Sprouts
Yield: 6
Pasta with Bacon and Brussels Sprouts
Quick and easy pasta meal that even non lovers of Brussels sprouts will enjoy!
Ingredients
1 pound angel hair pasta
3 cups thinly sliced Brussels sprouts (I did mine in my Cuisinart food processor)
½ pound bacon, cut into medium sized pieces
½ onion, chopped
1 cup fresh Parmesan cheese, divided
1 tsp fresh black pepper
½ tsp salt
Instructions
Cook pasta according to package directions and drain
While pasta is cooking, heat a large frying pan over medium heat. Start cooking bacon and cook until almost crisp.
Drain most of the grease and return bacon to pan.
Add onions and sliced Brussels sprouts to pan and saute 3 to 4 minutes or until just starting to wilt.
Toss into pasta along with ¾ cup Parmesan cheese, salt and pepper. Mix until combined.
Serve with additional Parmesan on top if desired.
Need more quick suppers? Check out these other great #15MinuteSuppers!
Follow 15 Minute Suppers on Facebook | Twitter | Instagram | Pinterest
and look for the #15MinuteSuppers hashtag too!
Oriental Style Stir Fried Spaghetti with Bacon from Food 4 Little Ones
Creamy Garlic Pasta from Better in Bulk
Creamy Coconut Shrimp from Around My Family Table
Quick 15 Minute Shrimp Tacos from Jen's Journey
Shrimp Fajita Rice Bowl from Turning the Clock Back
Pasta with Bacon and Brussels Sprouts from Suburbia Unwrapped
Head over to our #15MinuteSuppers Pinterest Board to see all the past recipes and more delicious goodness!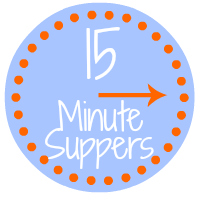 Would you like to join us at #15MinuteSuppers? We'd love to have you! Please check out the 15 Minute Suppers website or ask to join the Facebook group (for bloggers) to participate on Fridays…we'd love to have you join us.
Diane is a professional blogger and nationally certified pharmacy technician at Good Pill Pharmacy.  She has two college aged kids, one husband and more pets than she will admit to. She earned her BS in Microbiology at the University of New Hampshire  but left her career in science to become a stay at home mom. Years of playing with LEGO and coloring with crayons had her craving a more grown up purpose to her life and she began blogging and freelance writing full time.  You can learn more about her HERE.