Posts feature partner companies & may be sponsored. Post contains affiliate links & I will be compensated if you make a purchase after clicking on links. As an Amazon Associate I earn from qualifying purchases.
Last Updated on December 18, 2020 by
Disclaimer:  This post contains affiliate links which means if you click on a link and make a purchase I will receive a few pennies to put into my kid's college fund!
Evenings in my house are pretty hectic most nights.  I'm sure you know the routine as well as I do.  Kids get home from school and you need to figure out how to cram in homework, a tennis lesson, dinner, showers and possibly a few minutes of relaxation before you hit your pillow.  It may be tempting to take a turn through the drive thru to feed your kids but you don't need to do that to create a quick weeknight dinner.  I have joined forces with a number of great bloggers to help show you that you CAN make a healthy dinner for your family in less than 15 minutes.  So, I hope you follow along, check out some of their recipes (see the links at the end of the post) and try some of these creations in your own kitchen this week.  I hope you enjoy this week's easy dinner recipe...it is incredibly tasty and you can double the recipe if you want a few leftovers for tomorrow night. Using couscous in a recipe instead of rice or pasta can speed up an otherwise more complicated recipe.  You can find it in most major grocery stores on buy it on Amazon. Bob's Red Mill Couscous
is a favorite of mine but there are many brands available.
Italian Couscous with Sausage
Yield: 4
Italian Couscous with Sausage
Easy dinner recipe that can be on the table in less than 15 minutes.

Prep Time 5 minutes

Cook Time 10 minutes

Total Time 15 minutes
Ingredients
1 cup onion, chopped
1 pound ground sausage
3 garlic cloves, minced
1 can diced tomatoes, drained and rinsed
1 bell pepper, chopped
⅛ cup fresh basil, chopped
2 cups chicken broth
2 cups couscous
⅓ cup crumbled feta cheese for serving
salt & freshly ground black pepper, to taste
Instructions
Heat a large saute pan over medium heat. Add ground sausage and cook until almost done.
While sausage is cooking, place chicken stock in a medium saucepan over medium high heat. When it comes to a boil, remove from heat and add couscous. Cover with a lid and let sit until you are done with the rest of the meal.
While sausage is cooking, chop onion and bell pepper.
When sausage is almost done drain excess oil if necessary. Add in onion and bell pepper and cook 3 to 4 minutes.
Add minced garlic and diced tomatoes. Cook 1 to 2 minutes
Remove sausage mixture from heat.
Add couscous to sausage mixture along with fresh basil. Mix gently until combined.
Serve with a sprinkle of feta cheese on top
What's your family's favorite easy dinner recipe?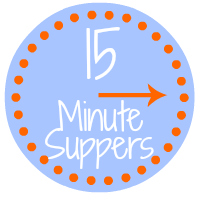 I'm so excited to be joining with a great group of bloggers every week to share 15 Minute Suppers with you. 15 Minute Suppers is all about getting supper on the table quickly with a homemade meal. All of the recipe shared are super easy take only 15 minutes or less to get on the table. Our lives are so busy that sometimes it's hard to find time to sit down together at the table for supper. Well, say bye bye to the 30 minute suppers and HELLO 15 Minute Suppers!
Follow 15 Minute Suppers on Facebook | Twitter | Instagram | Pinterest
and look for the #15MinuteSuppers hashtag too
You have to check out these 7 fabulous 15 Minute Suppers:
Easy Taco Burgers from Around My Family Table
Cajun Chicken Alfredo from Monzanita's
Sesame Chicken Salad from Better in Bulk
Homemade Beef & Bean Chili from How To This And That
Italian Couscous with Sausage from Suburbia Unwrapped
Paleo Shrimp Salad Recipe from Confessions of an Overworked Mom
Healthy Pesto "Spaghetti" from Mindfully Frugal Mom
If you are a blogger and you'd like more info, please check out the 15 Minute Suppers website or ask to join the Facebook group to participate on Fridays...we'd love to have you join us.
Disclaimer:  This post contains affiliate links which means if you click on a link and make a purchase I will receive a few pennies to put into my kid's college fund!
Diane is a professional blogger and nationally certified pharmacy technician at Good Pill Pharmacy.  She has two college aged kids, one husband and more pets than she will admit to. She earned her BS in Microbiology at the University of New Hampshire  but left her career in science to become a stay at home mom. Years of playing with LEGO and coloring with crayons had her craving a more grown up purpose to her life and she began blogging and freelance writing full time.  You can learn more about her HERE.